How do you protect yourself from ID Theft?
Protect Your Social Security Number
Don't carry your Social Security card in your wallet.

Give your Social Security Number (SSN) only when absolutely necessary.

Ask why a SSN is needed, who has access to it, and how it will be kept confidential.

Don't print your SSN or driver's license number on your checks.
Watch Over Your Credit Reports
You are entitled to one free credit report each year from each nationwide credit bureau. To get your free report, go to www.annualcreditreport.com or call 1-877-322-8228.

To track your credit during the year, request a free report from a different credit bureau every four months.
Protect Passwords
Don't carry your personal identification numbers (PIN) in your wallet or purse.

Don't share PINs or passwords, even with close friends or relatives.

Avoid using easily available information for your PINs or passwords such as your mother's maiden name, your or a family member's birth date, your SSN or phone number, or a series of consecutive numbers (i.e., 1, 2, 3, 4).

Choose a different PIN for each account.
Protect Your Information Online
Beware of phishing, emails that claim to come from a bank, Internet Service Provider, business or charity and ask you to confirm your personal information or account number. Forward the email to spam@uce.gov.

Never send your SSN or financial account numbers by email or transmit these numbers online unless using a secure website or encryption software.

Shop only on secure websites, and read website privacy policies.
Operating System Protection
Ensure that you have current anti-virus and anti-spyware products to protect yourself against malicious software that is created for the specific purpose of gathering information such as your User ID, password, and other critical information that may be stored on your computer.

Install a dedicated, actively managed firewall, especially if you have a broadband or dedicated connection to the Internet, such as DSL or cable. A firewall limits the potential for unauthorized access to a network and to computers.

Practice safe internet use. Never click on pop up messages or links to applications contained in emails. Try to get into the habit of manually going to links that are sent to you.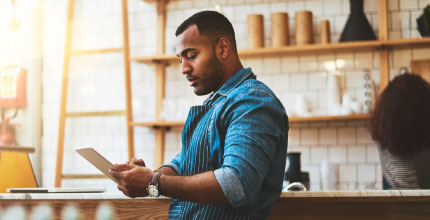 Your checking account is the basis of your daily cash management.
Different companies have different needs, and we have a checking account that's right for you.
Save up for college, a vacation, or just a rainy day.
Our team is our most important asset, as they drive the experience our customers have and are the everyday face of our institution.